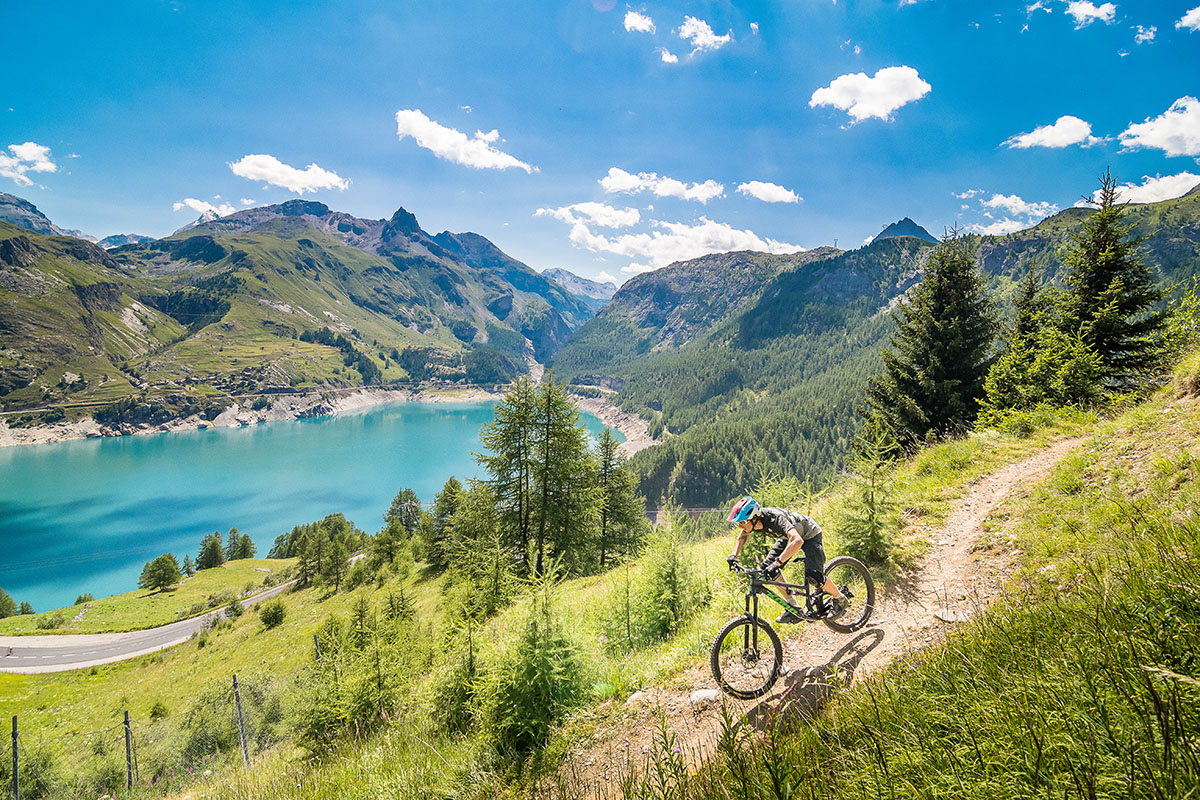 TIGNES : THE PLAYGROUND
FOR BIKE ADDICTS
15/04/2019
The air warms up, the nature is covered with a beautiful green dress and the lakes are filled with their clear water. Summer is coming and with it the opening of the bike tracks. DH (downhill bike), enduro (freeride), cross-country (ascent and descent) or E-bike (electric bike); from green runs for beginners to black doubles for elite levels, there is something for everyone and for all levels.
The Bike Park
From June 26th to September 05th, 2021, choose your practice and discover the Tignes Bike Park. From mid-July, depending on the snow melt, enjoy 150km of trails linking Tignes to Val d'Isère. Two nights at the hotel Le Refuge are enough to receive the "My Tignes" activity card giving free access to the five mountain bike lifts!
On our side we have a crush on the Kangooride (blue slope for insiders), the Tagada Fresse (red slope for the confirmed) and the black all mountain and enduro track of Tovière: the Wild 10 Nez.
For more information on the tracks, go to

https://www.tignes.net/que-faire-a-tignes/bouger/ete/bike-park/domaine-vtt

or on https: // www. valdisere.com/activites/les-itineraires-vtt/
News 2021



Complete renovation of the DH sector of Palafour




Improvement of the Chardon'up mountain bike trail with the creation of a new section between the Palet pastures and the Chardonnet lakes




New: Creation of a VTTAE link with Val d'Isère via the Col de Fresse via the GaraTfresse slope (opening scheduled for July 10)




Improvement of the Cow Lanta mountain bike trail: easy loop, accessible to families from Tignes le Lac towards the Marais plateau with a Photopoint under the Petit Col.



Where to rent a bike and equipment?
At DUCH Sport! Rental, sale and repair, this bike shop offers a quality service. All rentals include a protective pack: full face helmet, protective vest, knee pads and gloves.
More info:
duch-sports.com
The hotel Le Refuge offers its guests a bicycle storage room.
For those who prefer to keep their feet on the ground, take the opportunity to go around Lake Tignes and escape the time of a beautiful sunny summer day.
For a perfect day of activities and as the weather turns quickly in the mountains, do not hesitate to check the weather before leaving on https://www.tignes.net/meteo-tignes