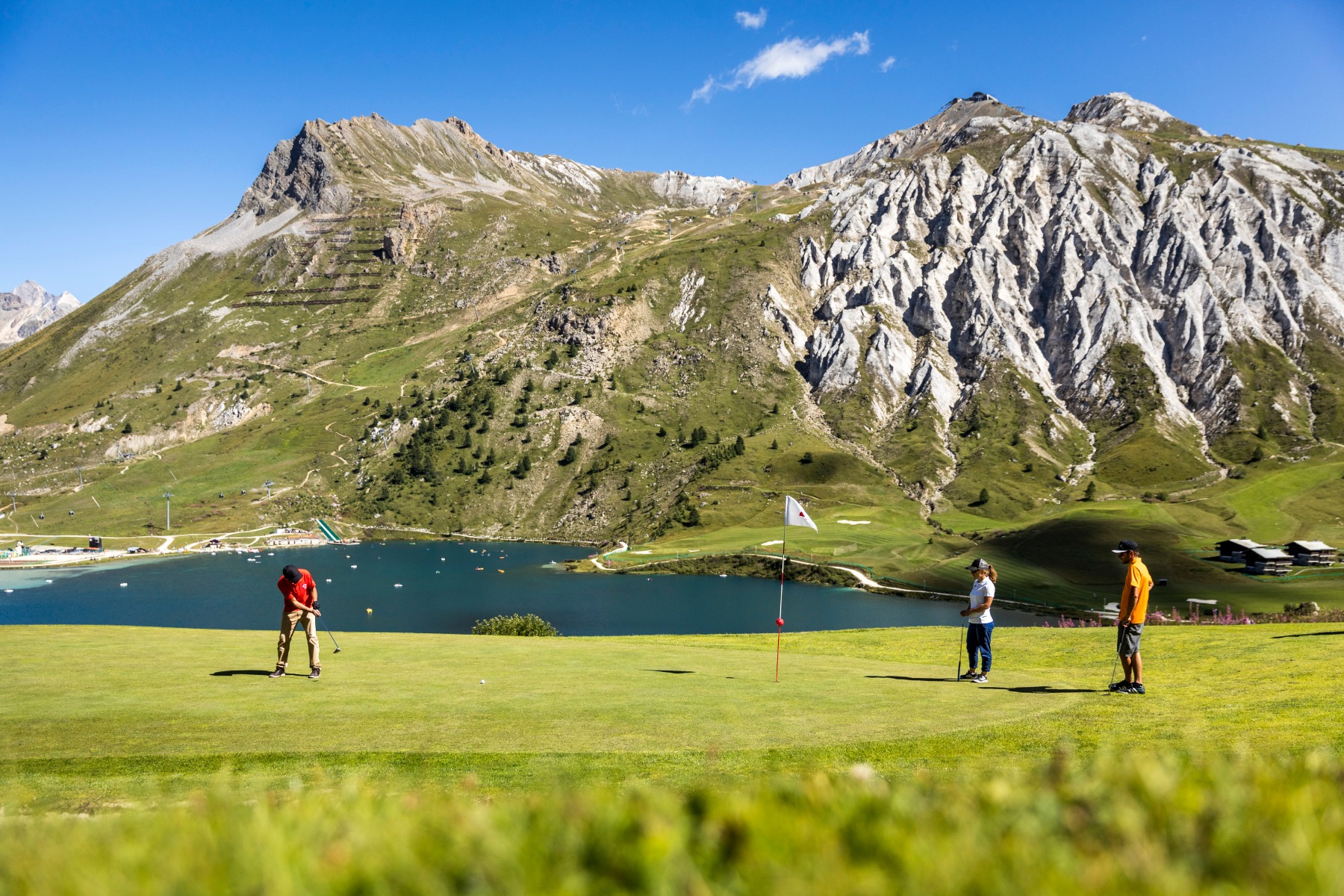 TIGNES GOLF COURSE
SPORT AND NATURE
23/04/2019
Golf is a passion. A passion for sport, for precision and especially for the beauty of nature.

Located in the heart of the Vanoise National Park at more than 2100 meters above sea level, the Golf of Tignes is one of the most exceptional in France. Its 18-hole course extends for 5 kilometers and promises the most beautiful panoramas. View of the natural lake of Tignes and its crystal clear water, wild and hilly terrain but especially a fairway framed by the glacier of Grande Motte, source of Lake Tignes: this course is a must.
The course
Designed by the architect Philippe Valant in 1968, the Golf of TIGNES was designed in harmony with nature and thus respects the surrounding context.
Enjoy a day outdoors to discover the alpine summer, the invigorating air and the tranquility of the mountains.
To get an idea of the immensity and beauty of the green, go to https://www.tignes.net/que-faire-a-tignes/bouger/ete/golf and immerse yourself in the video presentation. Discovery session, private lessons or workshops, all levels are welcome!
Most: You may be lucky to see marmots. If you hear whistling, it is because they are not far away.
The practice
To perfect your swing and gain precision before facing the green, nothing like a practice session.
Plus: only 4 € the bucket of 40 balls.
The mini-golf
The funiest sport to share a moment with family or friends.
Most: along the route, information on fauna and flora in Savoie will satisfy your curiosity.
The golf simulator
For golf fans, even in winter, Tignespace is ideal. Discover the activities offered by this indoor sports complex: https://www.tignes.net/que-faire-a-tignes/bouger/en-interieur/simulateur-de-golf
Plus: an alternative to skiing if the weather is not good.
Foot-golf
As its name suggests, football golf is a mix of these two practices. Precision sports, the goal of the game is to bring the ball into the holes by achieving the least possible strikes. The rules are similar to golf.
Most: the opportunity to try a new activity.
During the summer, from June 18th, 2021 to September 05th, 2021, the Hotel de Refuge offers packages with green fees to enjoy the 18-hole golf course or to take lessons with a professional instructor: http://www.refuge-tignes.com/accueil
See you soon on the green!